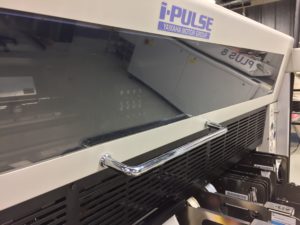 Dantom Production Solutions is an electronics sub-contract design and manufacturer, based in Warrington, North West England.
We pride ourselves on quick turnaround prototypes, rapid production builds and an impeccable PCB design team. The design team is capable of developing hardware and firmware and can see this through into production all under one roof. We always strive to solve any problems a customer may have at any stage of their project, whether it's design, test, mods, material sourcing or as previously mentioned; a simple quick turn round is needed.
We work with companies from different areas of the electronics industry, to aid both design and manufacturing. We provide to the booming LED lighting industry, commercial shipping, aerospace, automotive, etc. We are equipped to provide competitive prices for both prototypes and volume products.
We operate the new I-pulse M20 and a place machine for SMT volume production, with flexible placing from 01005 passives up to 120 x 90mm components, including BGA, CSP, and connectors, etc. Our operators are fully trained and vastly experienced, offering you a quick and streamlined service. Operators are available always to discuss any engineering queries or build changes to your products.
Here at Dantom we never say "no, sorry we can't" even in that rare instance, we are able to work with various partners that we have dealt and developed relationships with over the past 15 years to provide that full turnkey solution that is demanded.
Why Dantom?
A wealth of cumulative experience.
Extremely competitive in all aspects of design and manufacture
We offer the full term key service, from PCB design, through to the full production with open communication along the way.
Experienced PCB design engineers, including firmware development.
High-speed I-pulse M20 pick and place machine keeping Dantom competitive.
Personal contact between the customer and the production team.
Small but lean production facility with specialist production and material sourcing staff.
We will never say "no, sorry we can't", we will always help you find a solution.
RoHS compliant.